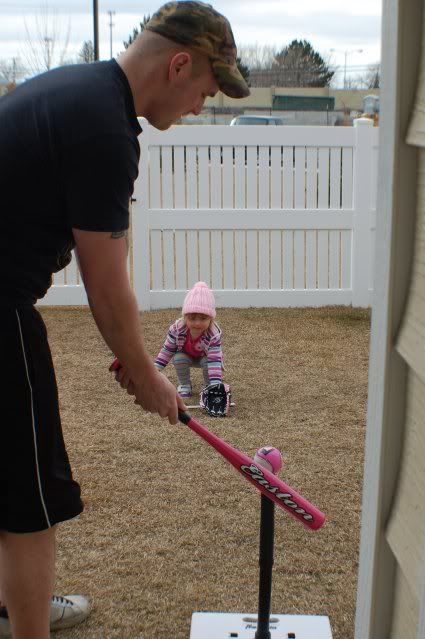 I know you can't tell by looking at me but I'm actually obsessed with baseball. In fact, I'm a pretty damn good softball player. I played from kindergarden into high school. I was the first freshman to make the varsity team (which I had to quit to get a job and pay for my car...) and was convinced I'd be the first female in the MLB (LOL).
Well, they say not to "push" your kids into doing things but today I started Lucy with the basics. We went to Target and she picked out a pink bat and glove and I grabbed a tee.She's a tad young for most people, which is why I couldn't find a glove that would fit anyone younger than five, but I need to start her young!
She has the gene. She was hitting off the tee and bending her knees. She even learned how to catch the ball (from very close). I was so proud! And a damn good coach if you ask me.
Eventually Dada came out to play. He got frustrated when she didn't understand simple things but...hello...she's two...and did a damn good job! One day she will be on the gator's softball team with a scholarship...right?