Tonight I made a delicious and simple recipe from Veganomicon by Isa Chandra Moskowitz and Terry Hope Romeo. Amazing cookbook and pretty much my new vegan bible. Since you guys always text me or message me asking for websites and recipes, I decided to share! Make sure to buy plain pita chips to scoop this up with, they don't use spoons in the middle east!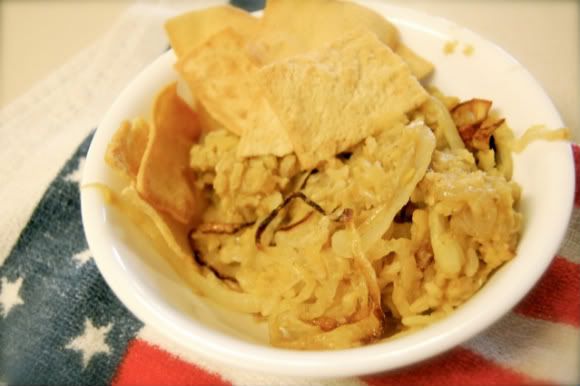 Lentiles and Rice with Caramelized Onions
-3 large yellow onions, peeled and sliced into thin rings
-3/4 cup of olive oil
-1 cup long grain rice, rinsed
-1 cup red lentils, rinsed
-1 cinnamon stick
-1/2 teaspoon ground allspice
-1 1/2 teaspoon ground cumin
Preheat oven to 400 degrees.
In a large, deep baking pan, toss the onion rings with the olive oil to coat. Be sure to separate the rings and spread them out in the pan. Roast in the oven for 25-30 minutes, stirring often. The idea is to get most of the onion rings deep brown, crisp, and even burned on the edges. The deeper they roast, the sweeter they'll taste. When done, remove from the oven and set aside.
Bring 4 cups of water to a boil in a large, heavy bottomed pot. Add the rice, cinnamon stick, cumin and allspice. Bring back to a boil, then lower heat, cover and simmer for fifteen minutes.
Uncover and add the lentils, stir gently only a few times, cover, bring to a boil again, lower the heat to low and cook for an additional 45 minutes, until the liquid is completely absorbed. Remove from the heat and set aside in a covered pot for ten minutes.
Use a fork to gently fluff the lentils and rice. Remove the cinnamon stick. Gently fold the caramelized onions into the lentils and rice, making sure to drizzle on any remaining olive oil from the roasting pan. Stir thoroughly, serve warm or at room temperature and ENJOY!